About
Doctor Who for Newbies begun as a humble project in early 2007 by Fraser Greenroyd, a Doctor Who newbie himself at the time. Fraser had watched three episodes of series 2 in 2006 (School Reunion, Army of Ghosts and Doomsday) and became intrigued to watch more during the Autumn months. Being a web enthusiast, working as a moderator on numerous forums, including a Harry Potter role play forum, Fraser decided to set up a website dedicated to newbies of the famous Time Lord.
In February 2007 Fraser, at the time an amature coder, built DW4N's first web template (see below) and created the website Doctor Who for Newbies on the 12th February 2007. Back then, the site opened with only a handful of articles, covering topics such as the Tenth Doctor, Rose Tyler and the Daleks. Soon after Fraser was joined by Owen Donovan who assisted in content writing. During these early days of DW4N, the website was hosted on a server by friend to Fraser, Christopher Jeffery.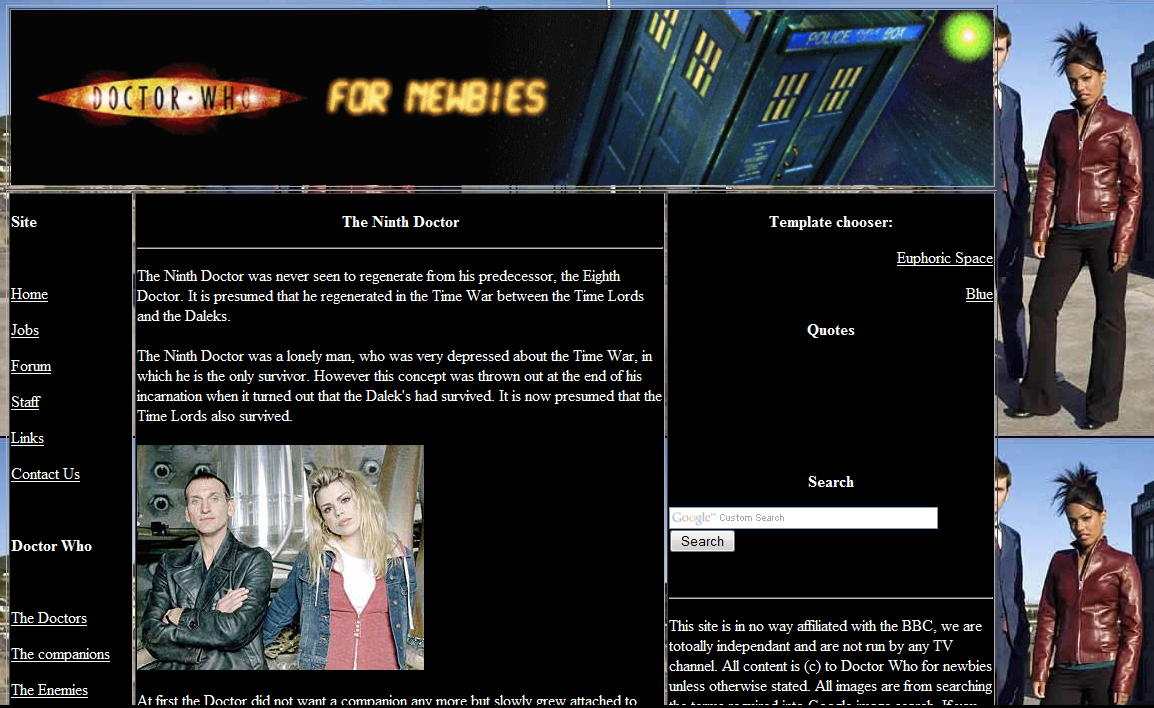 In September 2007, DW4N commissioned a more professional web design (see below) from their host, practicing web designer Christopher. During the third series of Doctor Who, the site went from strength to strength, hosting over 50 articles after only a few months. During the Autumn and Winter months of 2007, Owen departed to work on his own projects, leaving Fraser to write much of the site content. Early in 2008, Bryan Butler was brought in to replace Owen as head of the TW4N section, along with Rachel Khong, Stephen Mortimer and Oliver Barker as content writers for the site.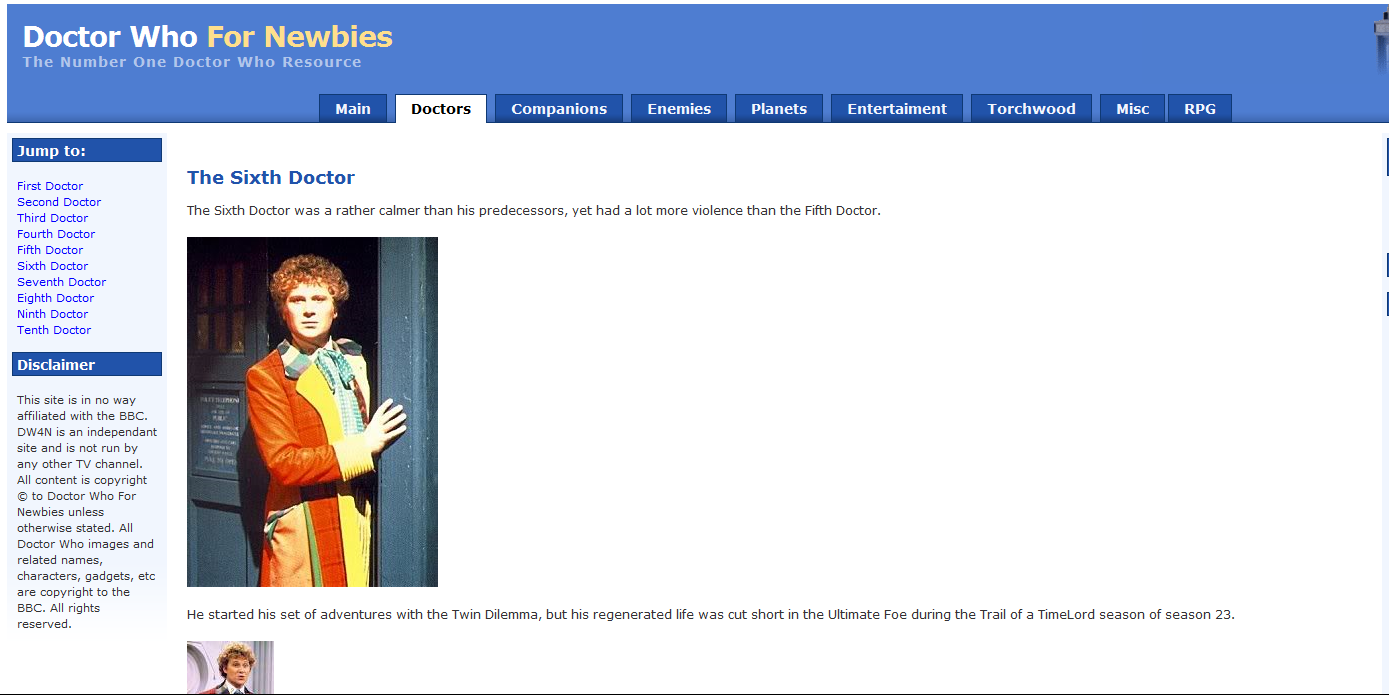 During 2008 DW4N introduced many new features to the site, including Episode Guides, Podcasts and a Role Playing Game. Unfortunately the last two of these were decommisioned in late 2008 due to other committments of the DW4N team. Towards the end of series 4, a third template was designed by master web designer Jamie Watson and coded by a now more experienced Fraser (see below). This web design was released within half an hour of the series 4 finale being broadcast in Great Britain, along with the first podcast by Fraser and Bryan.

During late 2008, 2009 and early 2010 DW4N saw a decline due to college committments for Fraser. In April 2010 DW4N moved from the host provided by Christopher onto our own host along with a new template, coded by Christopher. This is the template used by DW4N at the moment. During summer 2010 however, Fraser, now an experienced designer and coder, worked on the Lobo Malo Project, the second version of DW4N's very own Role Play Game. This version was released on Christmas day 2010 as a present to the long standing visitors of DW4N. Also during 2010 Fraser updated the site with new articles, including the new feature of columnists to the site.
In early 2011, Fraser introduced an "ease of use" policy for DW4N with its articles, to continue taking it from strength to strength.
So, what is DW4N's aim? Simple really - "to provide informative articles on items of Doctor Who for people who are new to the Time Lord, and to those who have enjoyed Doctor Who for years." This is the aim that DW4N works for when it deals with site decisions. Unfortunately, due to life committments this isn't always possible, but it is our aim of the site.
Stats:
These stats are provided as a rough guide only, and are just for fun. Stats for people wishing to advertise with DW4N are available on request.
Misc. Articles: 2
Doctor Articles: 11
Companion Articles: 10
Minor Companion Articles: 4
Other Alien Articles: 7
Enemy Articles: 41
Episode Guides: 83
Total: 158